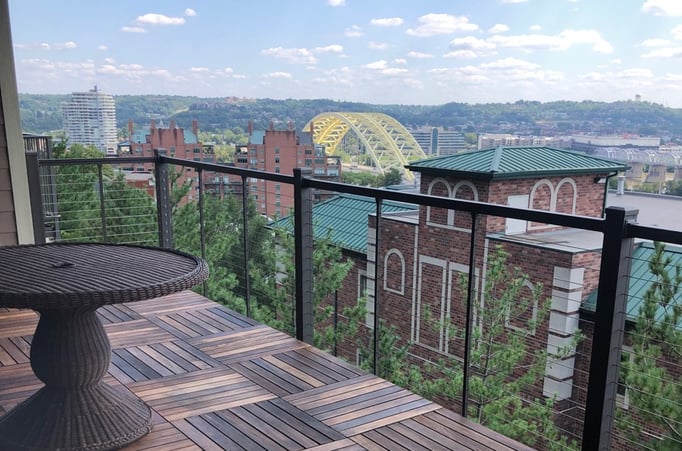 If you've seen fascia mounting brackets for deck railing, you may have wondered why. After all, in most applications, posts are mounted to the deck's surface. But there are extremely good reasons to use a fascia mounting method!
Here are three reasons to consider using a fascia mounted railing:
1. More Space.
When you choose to move your deck posts off your deck surface, you gain deck square footage. In fact, for every 1 linear foot of railing, you gain 6" of square footage. So 20' feet of railing means an additional 10 square feet of space for furniture, entertaining, or, if you have a small deck, some important extra elbow room.
While space is important on a residential deck, on a commercial deck it can translate into literal dollars. Mounting posts to the fascia gives a restaurant or entertainment venue more room for tables, which means more money on those busy nights when deck seating is in demand.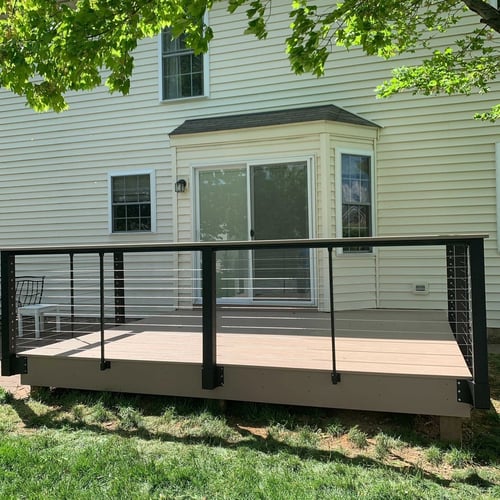 This smaller deck benefits from fascia mounted railing because it increases the available deck space.
2. Keep it Dry.
Under deck options have come a long way, with complete systems for waterproofing. But if you have a membrane and a watertight under deck space with a wood or metal ceiling, there's always a chance that drilling into the deck surface to mount posts will allow water to penetrate the deck, even with good flashing. Fascia mounting eliminates that risk and helps keep the watertight system intact.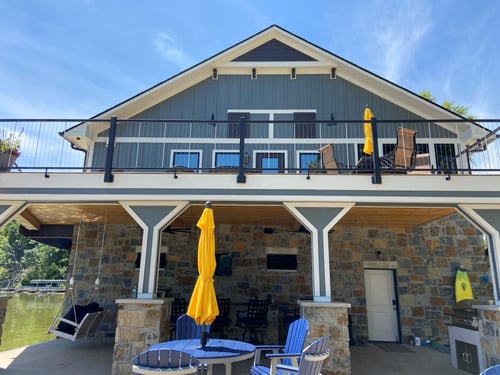 No worries about leaks in this under deck ceiling
3. Aesthetics.
Some people really love the industrial look of the fascia mounted brackets, but more likely, homeowners are looking for a way to avoid drilling into a floor. Beautiful flooring doesn't have to be marred by posts and bolts—you can mount your railing posts to the fascia and preserve its beauty.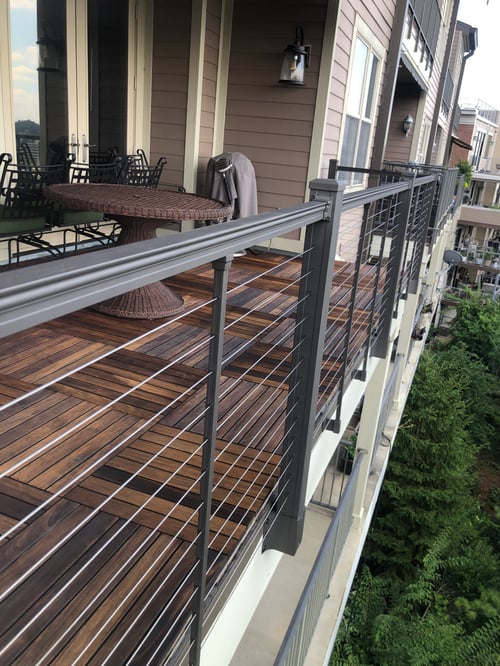 Preserve that beautiful floor and make more room on the balcony!
Make sure that the fascia mounting system you choose is code compliant and backed with testing reports for both safety and in case of questions from code officials. Also note the style and quality of the brackets. Key-Link powder coats our brackets with the same standard coating as we do our posts and railing, so everything matches and works together.
Fascia mounting isn't for every situation, but it can be the perfect solution in some situations.