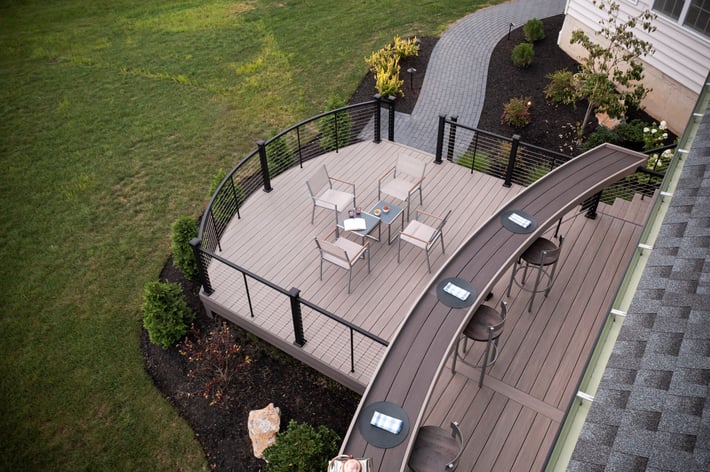 It's an exciting thing to build or remodel a deck! Together with your contractor, you are creating a beautiful outdoor living space for friends and family to connect or simply a relaxing place to take a breath, unwind, and enjoy the fresh air after a busy day.
With all the customization available, adding outdoor living to your home can be a fun (and occasionally exhausting) process. From the initial planning phases to the product selection to the building and finally to the finished product, there are many choices to make.
One choice most people don't often think about at length is their deck railing. Sure they might have an opinion on color or material, but do they take the time to compare different styles of railing? Or ask their contractors for additional options?
Here are three reasons why we think railing is one of the most important deck decisions you'll make.
1. Everyone sees it first.
Of course you are thinking about your decking material: brown, beige, gray? Composite? Wood? But in reality no one sees your decking until they are practically standing on it. Railing, on the other hand, is there for everyone to see even if they never set foot on your deck. The railing you choose is a prominent design choice, and your railing reflects your style in a way that decking never could. Are you a traditionalist? Do you like modern or industrial looks? Do you want unobstructed views?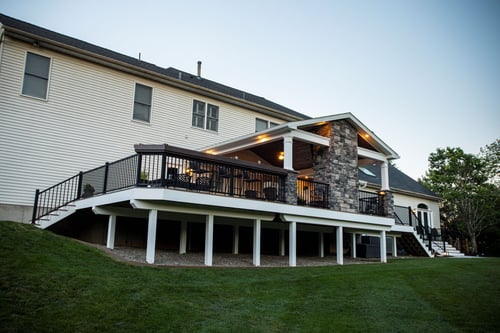 What do you see first? The railing and trim!
2. It's going to be around forever.
Railing materials like vinyl, composite, or aluminum are designed to last for decades. You or future owners are more likely to remove your railings for a remodel than because they require replacement. If you feel like a railing looks flimsy, or you dislike the look of a double corner post, or something else, investigate your options. It's one thing to live with something you don't like for a year or two and it's another to spend every night for years wishing you'd just spent a little more time or money to get what you truly wanted.
Additionally, what is the warranty on your railing if something goes wrong? Make sure to ask about that, so you know it won't be a hassle to get replacement parts or fix a problem.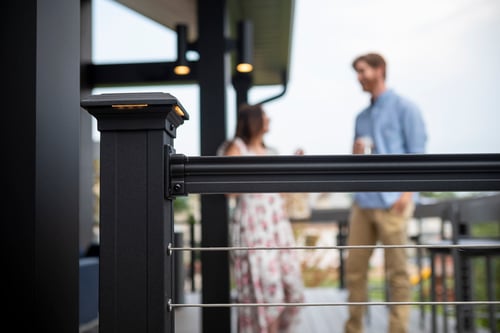 3. It's crucial for deck safety.
IRailing, especially on a two story (or higher) deck, is key for safety. What are the code requirements and does your railing meet it? Is your railing built and installed in such a way that it's safe for two or three people to lean on it? What if someone gets pushed into it? Code-approved railing (like Key-Link) is subject to tests of force that meet and exceed what a deck railing is subject to. Make sure your railing has documentation to back its claims of code compliance.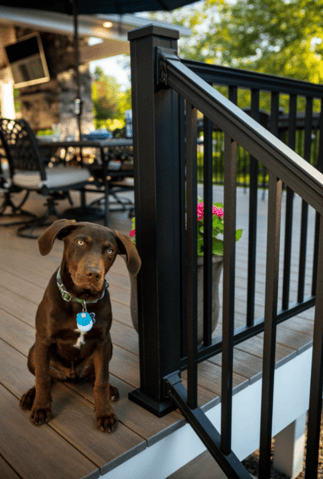 If you're planning a deck remodel, explore the various styles and colors of railing and ask your contractor what options they offer and to show you the benefits of each. If you are working with an experienced deck contractor, they will be well-versed in a variety of systems and can explain cost savings versus style and quality. Lumber yard sales staff can also be helpful in showing you the various types and styles of railing and the benefits of each. It's important to understand what distinguishes one system from another so you're not making your decision solely on price or solely on looks.
With a little bit of time and research, the railing you choose will be railing you and your family can enjoy for years.
If you're interested in learning about where you can see Key-Link railing in person, make sure to check out the dealer locator on our website.