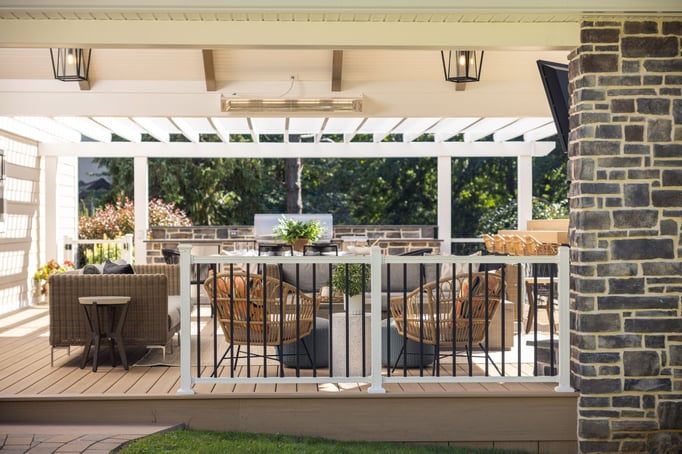 Railing is not everyone's first consideration when building a deck, but it should be! Railing sets a tone and style that can be seen from a distance (unlike decking) and gives your deck its character. If you're not considering your railing options, you're missing out.

Here are some of your choices when selecting a railing to really make it your own.
Select the Shape
Choose the shape of your railing. (When we say railing, we mean the profile of the top rail. We'll get to the infill later). Key-Link, for example, has three different rail choices, but most manufacturers offer at least a few different profiles.
There are a couple of questions you can ask yourself to help narrow down the options:
Do you want your railing to be sleek and minimalist? More stylized? Key-Link's American Series has a flat top with a bit of flair, while Outlook is smaller and rounder. Chesapeake Series is a drink rail that serves like a mini-countertop and ties your decking into your railing.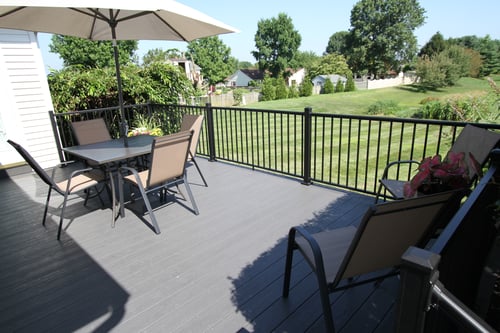 Slim-profile Outlook is a budget-friendly high-quality option for smaller decks.
What kind of railing profile works best with your home's style? For small spaces, choose a slim railing like Outlook. For large installations, American Series might be a better choice.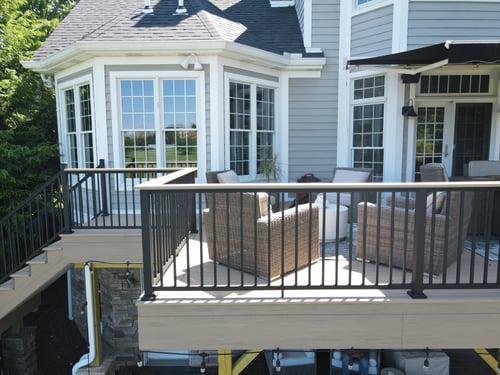 A drink rail profile is one way to make your railing unique and functional.
Choose Your Color
Choose your color. You are not limited to black! Think about the colors that would blend best with your home or your general surroundings. With powder-coating, Key-Link can do all kinds of made-to-order colors in addition to our standard offerings. One of those colors might also be a more natural match for your home, depending on your architectural colors.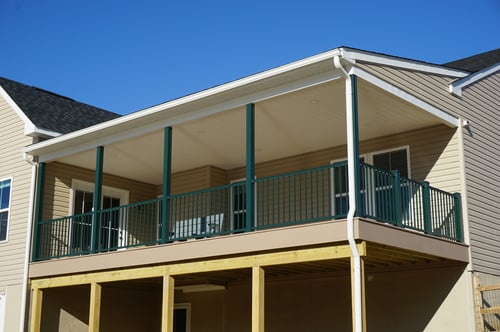 Dreaming of going green? Key-Link can do it!
Pick Your Infill
Choose your balusters or infill. (Infill is the general name for the spindles/balusters or cables that go between the top and bottom rail.) While the different rail profiles aren't as noticeable until you're standing near the deck, infill is visible from a much greater distance and gives the railing its character.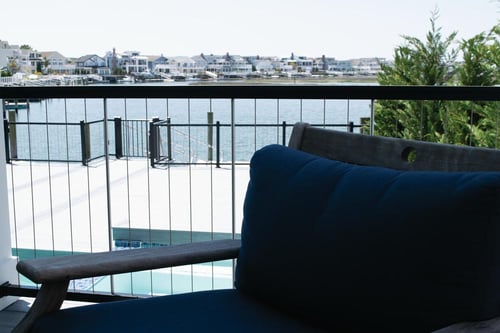 Vertical cable is a beautiful infill option
Options for infill include:
• Cable in horizontal or vertical configuration
• Square balusters
• A special baluster like twisted, hammered, or bowed
Each infill brings its own style, so once you've chosen a railing, make sure to check which infill is available and think about the statement you want to make. Modern? Bold? Traditional? Industrial? The benefit of cable railing is the way it disappears when looking through it, so your view is maximized.
No matter which style, color, and infill you choose for your railing, make sure it's something you truly love so you can enjoy it every time you step onto your deck.