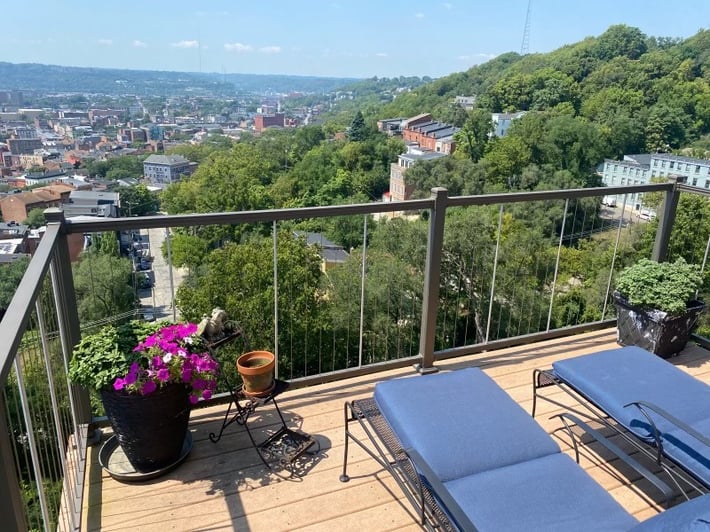 Vertical cable overlooking a Cincinnati neighborhood. Installation by Eads Fence.
Cable railing continues to be a popular choice for homeowners all across the country, with many homeowners opting for horizontal cable railing. Numerous railing manufacturers make horizontal cable systems, and more installers are familiar with it.
But there is an alternative! Vertical cable railing is another option on the cable railing scene and is a fun, unique offering that still provides the modern style and open feel of cable infill. Here are some things you should know about vertical cable railing.
Vertical Cable Needs Support
Cable tension alone can't support a vertical cable section, at least not if you want it to remain secure and meet code requirements. To address this, manufacturers add support balusters. Some are powder coated to match the railing; Key-Link chooses stainless steel to blend in seamlessly with the cable.
The size, number, and placement (or suggested placement) of the support balusters is up to the manufacturer and should be based on meeting code requirements. Some companies place a support baluster every three cables, and others, like Key-Link, go up to five. No matter what, your manufacturer should be able to provide documentation showing that their sections are code compliant.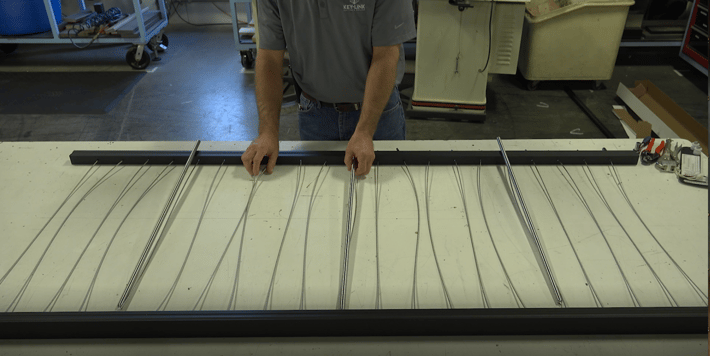 Key-Link installer placing support balusters where they make sense symmetrically within the section.
Vertical Cable is Packaged Differently
With horizontal cable sections, railings are packaged together while the cable comes in a roll that the installer runs through the posts and cuts to fit. Vertical cable is done differently. It can come pre-installed in a boxed section or the whole section can be sold as a panel.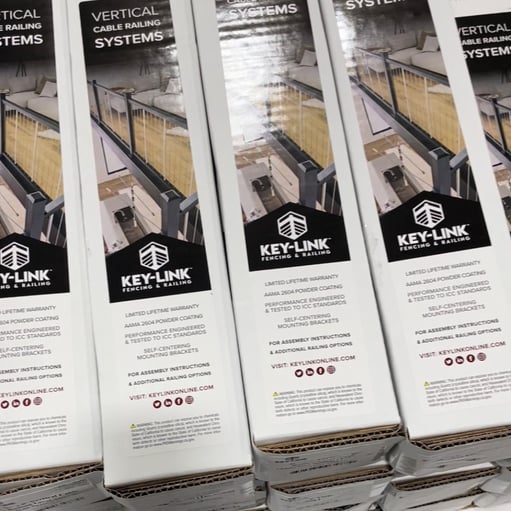 Key-Link's vertical cable sections packed into boxes
Vertical cable sections in a box are convenient to store and carry (and they're well protected from damage), while the panel configuration means the whole section is already together and you don't have to install support balusters on site. (The panel does, however, take up more space and the installer doesn't have the flexibility to place support balusters where they look best.)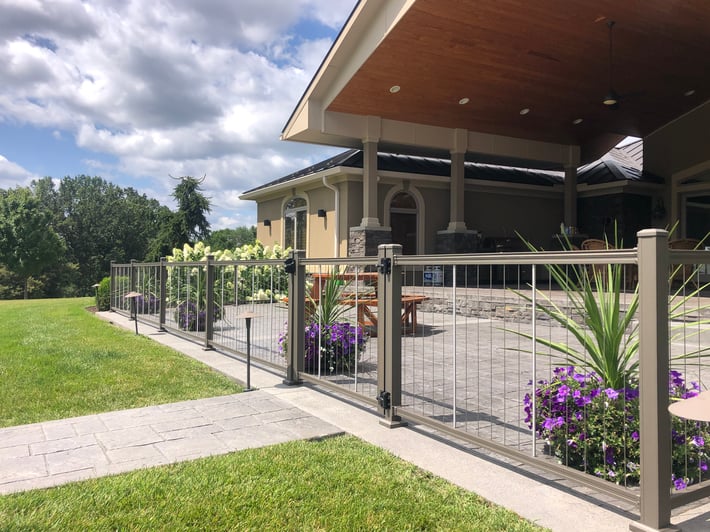 Vertical cable at a home in the Shenandoah Valley of Virginia. Note the way the balusters blend with the cable. Installation by Dutch Way.
Vertical Cable is Unique
Beautiful vertical cable can make any home a neighborhood showpiece and is a optimal choice for commercial spaces because of the way it allows for open views. For anyone concerned about climb-ability (a.k.a. the "ladder effect"), vertical cable is a wonderful alternative to horizontal cable. And it's rare enough in the marketplace that not everyone has seen it or knows about it, so it has a wow factor that some other options don't. Plus, it provides the sleek lines and modern look that so many homeowners want.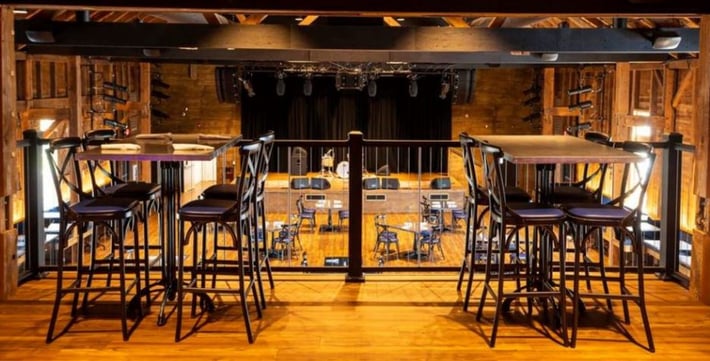 Commercial restaurant and concert venue with vertical cable for open sight lines to the stage
You'll find all of Key-Link's vertical cable options here.