As sleek lines and minimalism continue to dominate the trends in outdoor living, railing is no exception! Cable continues to grow in popularity as an infill and homeowners gravitate toward the looks that will maximize their views and minimize obstructions.
Posts are a necessary part of most railing systems, lending stability and long-term security to the rails. But there are ways to make the posts less obtrusive and minimize their effect on the overall look of the railing. Here are three things you can do to cut down on posts' visual impact.
Shrink Them!
You don't need magic shrinking powers, you just need to select a smaller post. Companies are moving away from bulkier posts to slimmed-down sizes like 2.5-inch posts. Key-Link has even managed to get all of our horizontal cable fittings into a 2.5-inch post!


The concern with a smaller post is that it won't offer the security or stability of a larger post. Make sure when you choose smaller posts that the manufacturer can provide documentation that backs up the code-compliance and stability of a smaller post system.
Use a Drink Rail
When you choose a drink rail system, you can either allow the posts to stick up between the deckboard top rail, or you can cut the posts down and allow the deckboard to run over top. Cutting the posts down so that the deckboard runs over top of them makes the posts less obtrusive and minimizes their appearance.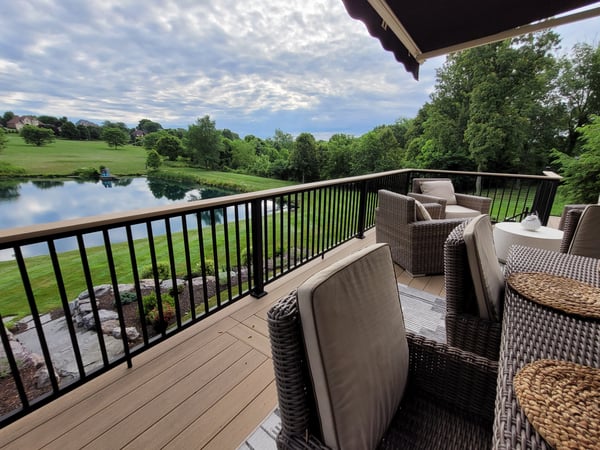 Posts easily blend in with the balusters thanks to the deckboard top rail.
Use a Crossover System
Crossover railing or crossover posts are designed so that top rails can run over them (like a drink rail, but without the deckboard top). Traditionally it's done using an adapter bracket, but Key-Link has designed a crossover post to allow railing to run over the top easily. (Watch Key-Link's crossover post video).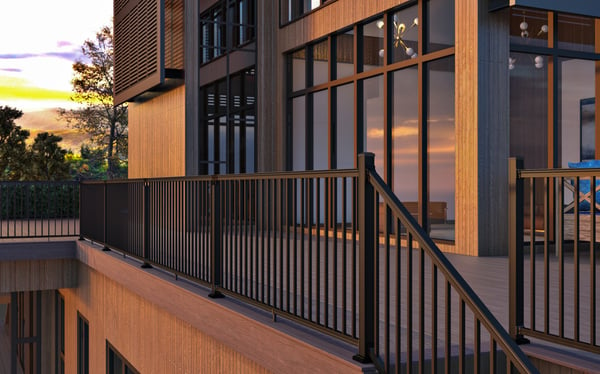 Railing goes over the posts with Key-Link's crossover system
By choosing smaller posts and taking your top rail over them, you minimize the appearance of the posts and give your railing the sleek look you want.