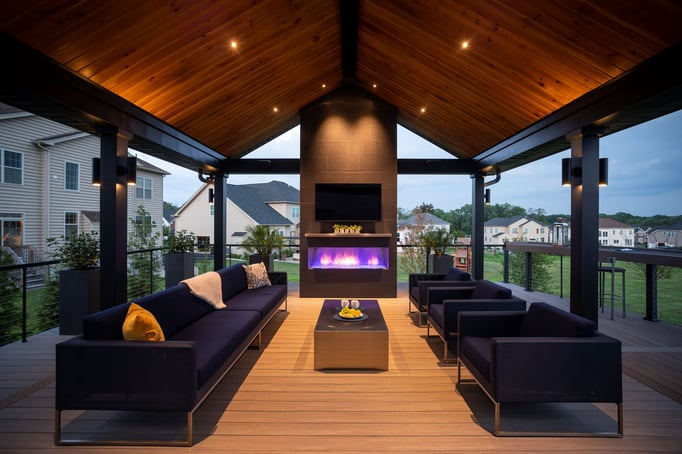 Undertaking a deck build can be a major project! And when you're done, of course you want to love your deck's functionality and design. At Key-Link, we see A LOT of deck pictures and we've noticed some trends and products that can make a deck really stand out.

Here are our top 4 ways to take your deck to the next level. Consider these options and add-ons when planning your big outdoor living space. Your deck will be the talk of the neighborhood!
Upgrade to Cable
Cable railing is growing in popularity with no signs of stopping! This high-quality, beautiful product is beloved by homeowners because of its sleek lines, modern look--and of course because it doesn't block your view from the deck. Done right, it's also incredibly safe, long-lasting, and code compliant. Adding cable infill will take your deck from lovely to full-on stunning.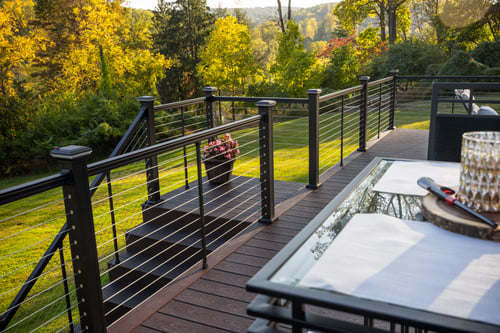 Design for Drinks
Turn your railing into an attractive countertop by adding a deckboard top rail. Drink rail, or cocktail rail, provides a ton of functionality for entertaining, plus ties your gorgeous decking into your railing seamlessly. A deckboard top rail gives you and your guests a place to rest a drink or plate and adds color and style.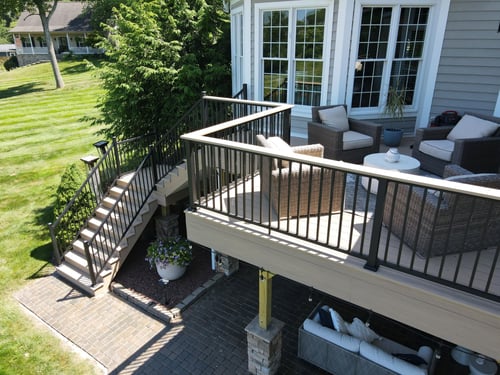 Drink rail adds fun AND functionality!
Use ALL the Space
Fascia mounted railing is one way to maximize the space on your deck and increasing the surface area. With fascia mounted railing, for every linear foot of railing, you gain 6" of square footage. This can create more room for furniture, guests, or activities.

(And if you use fascia mounted railing, you avoid drilling into the deck's surface, which can help your underdeck space stay dry.)

Which brings us to this: if you have a second story deck, make the space underneath it count! With an underdeck product, you turn the bottom of your deck into a ceiling. Underdeck systems catch rainwater and drain it away, so the space under your deck will stay mostly dry. Additionally, these underdeck ceiling systems make your deck look finished and help create real, usable space underneath.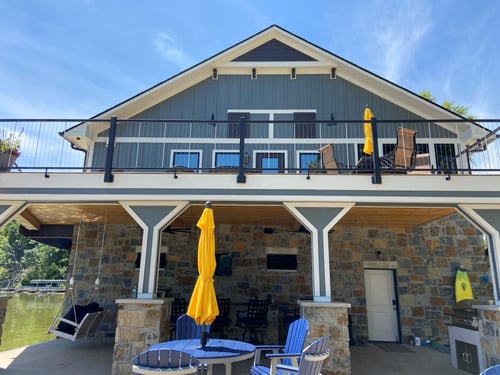 Fascia mounted railing and a watertight underdeck space give this vacation home two levels of usable space!
Add Lighting
You can add post cap lights to two posts or twenty. You can use accent lights on your stairs for safety or on posts to draw attention to them. Lighting gives your deck a major upgrade, both in looks and functionality. You can use the space longer into the evening, increase the security of your deck, and enhance your curb appeal.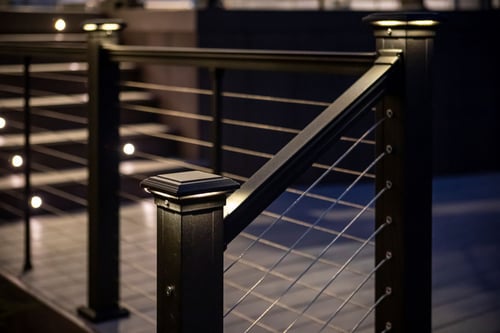 With any (or all!) of these four additions, you'll take your deck to a new level and create a space you can enjoy with friends and family for years.