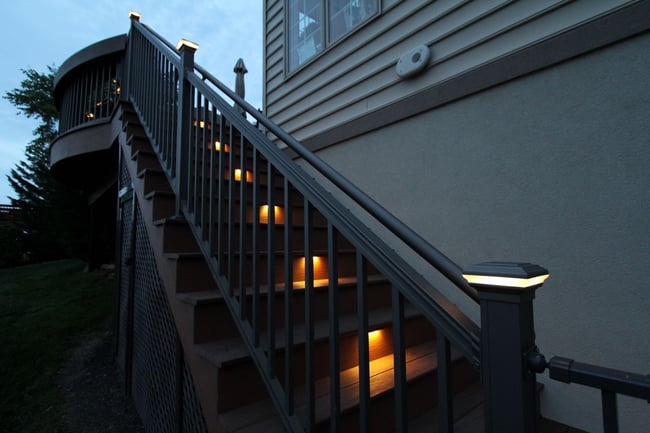 Since May is Deck Safety month, we are taking a look at some of the best things you can do to keep your deck safe and secure for your family and friends to enjoy. Every year decks collapse, which can end in tragedy, but even if you're not at risk of major failure, there are things to look out for to prevent injury or future damage. Preventative maintenance is the best kind!
Cracks or Rot - Look for splitting wood or insect holes, especially where the deck attaches to the house, support posts, and joists under the deck. You can use a screwdriver or ice pick to test areas exposed to water and parts of your deck that are constantly damp. If the ice pick can penetrate the wood or the wood is soft, that's a clue the wood is decaying. Replace any damaged wood.


Corrosion and Rust – Check all connectors and fasteners for signs of rust.


Flashing - Is the flashing that keeps water from collecting between the house and the deck still doing its job? If not, replace it. You don't want this important connection to be water damaged.


Loose or Missing Fasteners - How do the nails, screws, or anchors look? Tighten loose screws, replace rusty ones, and pound back in nails that have popped up. Check to make sure the deck is properly secured to your house.



Railings and Balusters – Push on them to make sure they are secure. If someone tripped and slammed into them, would they hold? Railings should be 36" high at a minimum and your infill should be no more than 4 inches apart measured from the inside of the rail to keep small children and pets from squeezing through. This is especially important if your deck is elevated or opens onto water.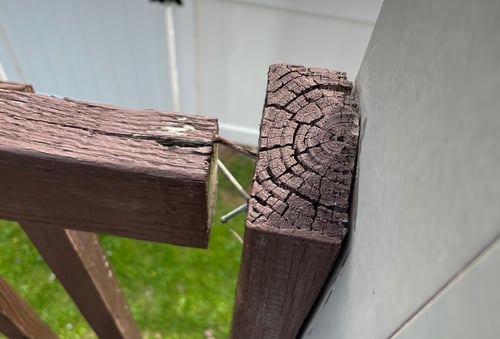 This railing is coming apart and needs to be replaced quickly for safety

6. Stairs – Check railings or handrails to make sure they are firmly in place. Check the risers and stringers to be certain they are securely attached. If the area behind the stair treads is open, the opening should be no more than 4 inches high. Keep stair pathway clear of planters, décor, and other items that present a tripping hazard.

7. Lighting and Electrical – Make sure all fixtures work and clean the light covers to allow maximum light to shine through. You should also trim back any plants or tree limbs that may block the light. Make sure all electrical outlets, appliances, and other features are up to code, and make sure electrical cords do not present a tripping hazard.