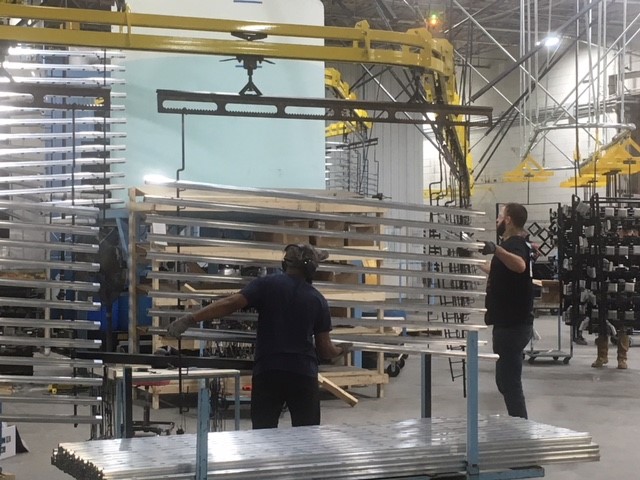 Uncoated aluminum railings getting ready for powder coating
Rain, snow, UV rays, humidity—if an aluminum railing is going to be outdoors, it needs high-quality weather protection. Powder coating is the solution to keeping aluminum railing and fencing from fading and helping it to retain its color. During the powder coating process, powder is electrostatically charged and sprayed onto a piece of aluminum, then heated until the powder melts and forms a protective film. The heat also cures the coating for long-lasting protection.
The American Architectural Manufacturers Association (AAMA) has created a set of specifications by which to judge the quality of powder coating, and these specifications help customers anticipate the life of their product. No one wants to pay for a gorgeous aluminum railing only to have it deteriorate two or three years later.
AAMA has specified three levels of coating: AAMA 2603, 2604, and 2605. Each coating is tested in South Florida, which means exposure to plenty of sun, heat, and moisture. If the AAMA says a 2604 standard coating retains acceptable color for five years, that means that coating spent five years baking in the Miami sun before it was evaluated against brand-new coating.
AAMA 2603
This is a low level of powder coating that works best for interior and ornamental applications, where UV rays and moisture are less of a concern. Outdoors, AAMA 2603 standard coating's color retention lasts for about 1 year, although slight color fading may occur.
AAMA 2604
As the intermediate level of powder coating, AAMA 2604 standard coating is ideal for balconies, railings, and fencing, making it Key-Link's standard choice. After five years, AAMA 2604 coating maintains color retention of 5 Delta E units* or less.
AAMA 2604 standard coating is the best specification level for Key-Link customers because it strikes a good balance between cost and protection. This level of protection is also resistant to chipping, scratching and fading, which makes it ideal for outdoor use.
AAMA 2605
AAMA 2605 standard coating is the high-performance coating that's best for use on architectural products that require special long-term protection or are installed in a coastal region, since salt air and water can increase weathering. Products coated with AAMA 2605 standard coatings are resistant to moisture, fading, and weathering for up to 10 years (change of ≤5 Delta E units*).
AAMA 2605 standard powder coating is offered through Key-Link as an upgrade.
When looking at aluminum products for your outdoor space, we recommend investigating the long-term protection of the products' powder-coating. Knowing that your product is protected and backed by warranty can give you confidence in your purchase, and you'll know you can enjoy it for years.
*What is a Delta E Unit?
A unit of 1 Delta E means the colors being compared can barely be differentiated by the human eye.
On the other hand, a Delta E unit that falls between 3 – 6 means the colors are visibly different, but still an acceptable match.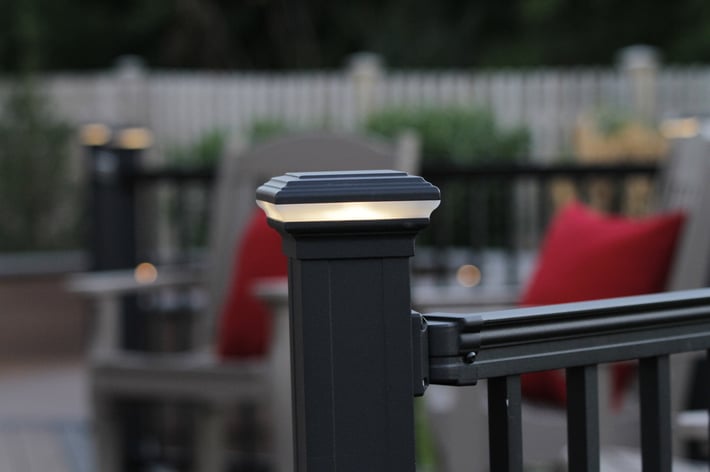 Beautiful finished and powder coated railing and lighting